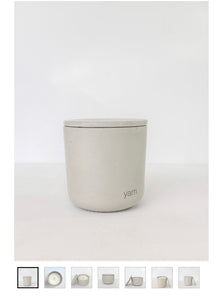 YAM Collective Coconut Wax Candles - Cement Jar Candle 
Cement Jar Candles
These cement jar candles are the perfect way to modernize your living space. Each simple vessel is cured and sealed for everyday use. Each can be cleaned and reused as decor, planters, and containers or re-poured once the wax has burned completely. Handmade in Maine.
 Wintertide
 Top Notes: Blue Sage + Birch
Middle Notes: Eucalyptus + Chestnut
Base Notes: Leather + Citrus
Material: Concrete
Dimensions: 3"x3" (7.25 oz) or 4"x3" (13oz) 
Sealant: no VOC nontoxic water based
Wick: Wooden Whisper: Eco-friendly, clean burning wooden wicks made from FSC certified wood, hand-crafted and made in the USA.
Wax: creamy, natural coconut blend wax
Scent Profile: 100% Phthalate-free, paraben-
Approximate burn hours:
1.75 oz Candle : 12+ hours
Color may vary due to monitor settings.