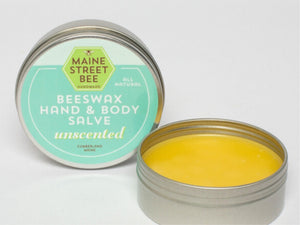 Our all natural Beeswax Hand Salve is hand made in small batches in our Cumberland, Maine studio. The healing properties of beeswax and shea butter alleviate cracked, chapped skin and can be used on hands, feet, face and lips. Other uses include treating minor burns such as sunburns, blisters, burns caused by radiation treatment, diaper rash, eczema and psoriasis.
Our Unscented Salve has no added essential oil, but has it's own natural and gentle fragrance of sweet beeswax and shea butter. Heaven!
Ingredients: beeswax, certified organic jojoba oil, shea nut oil and unrefined shea butter.