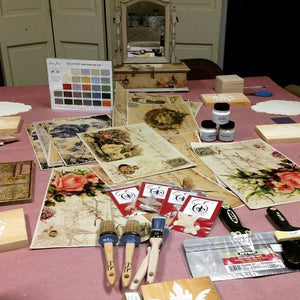 Host: Maureen Bane
n this class we will learn the art of decoupaging techniques, as well as crackling techniques. We will cover all aspects of embossing and how to create and apply an embossed appliqué on sample molding boards to give a unique look to your furniture projects. You will paint, embellish and finish with clear and dark waxes to give an aged appearance to your samples and leave the workshop inspired to tackle your next furniture transformation! Fee for workshop is 75.00 all inclusive of materials. Class size is limited so payment in full is required.   Private workshops are also available with a minimum of four (4) students. Please book online or call the shop to reserve your place at 207-606-3800.
Workshops:
Thursday, February 9th, 2023 1-4pm.
Wednesday, March 8th, 2023 5-8pm. 
Sunday, April 2nd, 2023, 5-8pm.
Sunday, May 7th, 2023 5-8pm.