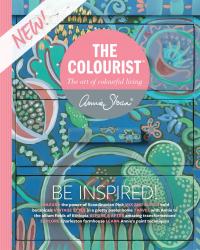 The Colourist is a bi-annual Bookazine publication - bigger than a magazine but smaller than a book. Each collectable issue will feature 132 carefully curated pages bound in a covetable cover.
Inside, you'll find interviews with creatives Annie admires; discover beautiful furniture Annie loves; sneak peeks inside homes that inspire Annie; and travel to off-the-beaten-track destinations Annie has explored. You'll find out how to enter Annie's competition and win a complete room revamp including paint, fabrics, stencils, brushes and more. Each issue will also feature a range of Chalk Paint® projects, for all abilities from absolute amateurs to confident creatives, with easy-to-follow, step-by-step instructions.
The first issue will include an exclusive free stencil designed by Annie Sloan with a step-by-step guide by Felix Sloan, to show you how to create a masterpiece of your own at home!